Taiwan's
HTC
has overtaken
Nokia
to become the third most valuable maker of mobile phones, highlighting the speed with which touchscreen-based smartphones have become a mass-market product in Europe and the US.
The growth of HTC, which was valued at $33.8bn after the close of trading in Asia on Thursday, also highlights the slide in value of Nokia which has failed to innovate in the new smartphone market.
The problems facing the Finnish mobile phone maker, which had a market capitalisation of $33.4bn based on Wednesday's closing prices, were highlighted by Moody's on Thursday.
The credit agency downgraded Nokia's debt rating from A2 to A3, citing the company's weakened market position and uncertainty over its transition to Microsoft's Windows Phone software.
HTC's market value is also bigger company than either Sony or LG Electronics, according to Thomson Reuters data, but it remains smaller than Apple or Samsung Electronics, although unlike those two companies, the smartphone is the Taiwanese company's sole business.
HTC shares are now a third higher than they were at the start of the year, while Nokia's shares have fallen by a fifth over the same period.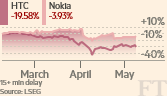 Nokia remains the world's biggest producer of mobile devices by volume, with a 28.9 per cent global market share at the end of last year, according to Gartner.
But Nokia has fallen behind rivals in the smartphone market where Apple's iPhone and Android-based phonemakers such as HTC have taken market share.
Nokia's failure to compete culminated in a high-profile management reshuffle last year, with Steven Elop becoming the first non-Finnish chief executive of the company in its 145-year history.
Mr Elop, who joined Nokia from Microsoft, likened the company's predicament to a man on a "
burning platform
" as he outlined a plan to transform the company and make it more competitive.
The American is now seeking to reinvent Nokia as a provider of premium smartphones
based on Microsoft's Windows Mobile platform
.
HTC's
rapid rise
reflects the speed with which touchscreen-based smartphones have become a mass-market product in Europe and the US.
Its sales last year was T$278.8bn ($9.6bn) and it shipped 24.7m units last year, according to Gartner, compared with 46.6m units of iPhones shipped last year.
While growth is expected to slow this year compared with 2010, the global smartphone market is still expected to grow by 50 per cent, according to IDC.
Unlike HTC, which was positioned from the start to take advantage of this trend, many other mobile phonemakers were caught off-guard by this rapid change.
HTC was founded only in 1997 and for the first 11 years of its existence was a little-known contract manufacturer for other brands. But since it made the world's first Android-based phone for T-Mobile in 2008, the company has proved quick to adapt to the market's changes.
HTC took advantage of the 18-month period in which it was the sole producer of Android-based phones to grow quickly in size. C.K. Cheng, analyst at CLSA, the equity brokerage, says that HTC's scale means that "in times of tightness in the supply chain, such as now after the Japan earthquake, all the suppliers are going to ensure that Apple and HTC get their orders filled first rather than Motorola or Sony Ericsson".
The rally in HTC's shares also reflects the fact that it has been quick to fill the nascent market for phones running on
much faster, fourth-generation networks
. In the US, HTC's Evo Shift, for Sprint's network, and its Thunderbolt, for Verizon, are the only two 4G smartphones available on the market, although competing devices will soon be launched.
"Even if it is just a one or two-month lead, it is still a significant advantage," Mr Cheng said.
However, some analysts, such as Morgan Stanley's Jasmine Lu, worry that HTC will face
increasing headwinds
as competitors catch up, and may see its profit margins fall if low or mid-ranged smartphone models grow in popularity at the expense of premium models.